Since my beer awakening I've experimented with as many styles as I can get my hands on, but the Quadrupel style seems to consistently please me the most.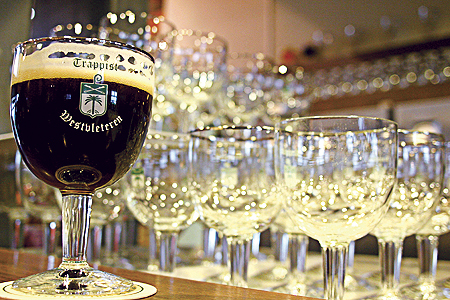 From
Beer Advocate
:
Inspired by the Trappist brewers of Belgium, a Quadrupel is a Belgian style ale of great strength with bolder flavor compared to its Dubbel and Tripel sister styles. Typically a dark creation that ranges within the deep red, brown and garnet hues. Full bodied with a rich malty palate. Phenols are usually at a moderate level. Sweet with a low bitterness yet a well perceived alcohol.
No style combines such flavor with such high alcohol by volume...it makes for a longer drink that is worth every minute. Some of my favorites:
1.
Trappist Westvleteren 12
- (10.2% abv) If you've read our blog, you know how we feel about this beer. Extremely rare so it receives tons of hype, but it rewards you by living up to the hype in every way.
2.
Malheur 12
- (12% abv) This is probably the strongest beer I've ever had, but it certainly doesn't sacrifice in flavor. Brick Store usually has this in a bottle...and it's still the only place I've ever seen it.
3.
St. Bernardus Abt 12
- (10.5% abv) I credit this beer for changing my life (as it pertains to quality beer). I've seen many "quality beer" virgins have their first taste of Berny 12 and never turn back. Easy to get your hands on these days, even at most Krogers. Enjoy.
5.
Val Dieu Grand Cru
- (10.5% abv) Brick Store seems to have this on draught quite a bit , and I can't order it fast enough when they do. It's everything a quad should be.
6.
Urthel Samaranth
- (12% abv) The dude with the huge nose is awesome...but this strong (same as Malheur) Quad packs some serious sweetness to balance it out.
7.
Pannepot Old Fisherman's Ale
- (10%abv) I've only had this once, but it certainly got my attention. I look forward to my next tasting of this fine example of a Quad.