With the falling of the leaves, comes some changes with the beers you see around your neighborhood pubs. No longer do we need those summer ales to refresh us from the heat. What should you be turning to in the mild fall weather?
From
Beer Advocate
:
"Before refrigeration, it was nearly impossible to brew beer in the summer due to the hot weather and bacterial infections. Brewing ended with the coming of spring, and began again in the fall. Most were brewed in March (Märzen). These brews were kept in cold storage over the spring and summer months, or brewed at a higher gravity, so they'd keep. Märzenbier is full-bodied, rich, toasty, typically dark copper in color with a medium to high alcohol content. The common Munich Oktoberfest beer served at Wies'n (the location at which Munich celebrates its Oktoberfest) contains roughly 5.0-6.0% alcohol by volume, is dark/copper in color, has a mild hop profile and is typically labeled as a Bavarian Märzenbier in style."
We made a stop at Brick Store for their Oktoberfest celebration and came across a few "Oktoberfest" beers that were quite tasty. I liked all of them but probably enjoyed them in the following order (of course served in litre mugs):
1.
Left Hand Oktoberfest
B+
2.
Victory Festbier
B
3.
Ayinger Oktober Fest-Marzen
B-
Not into the German stuff? Well, how about a juicy pumpkin shoved in to your beer?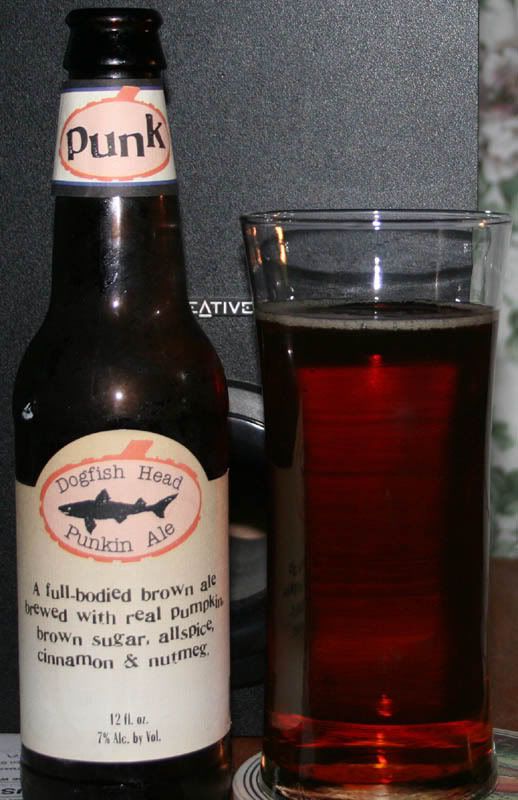 From
Beer Advocate
:
Often released as a fall seasonal, Pumpkin Ales are quite varied. Some brewers opt to add hand-cut pumpkins and drop them in the mash, while others use puree or pumpkin flavoring. These beers also tend to be spiced with pumpkin pie spices, like: ground ginger, nutmeg, cloves, cinnamon, and all spice. Pumpkin Ales are typically mild, with little to no bitterness, a malty backbone, with some spice often taking the lead. Many will contain a starchy, slightly thick-ish, mouthfeel too. In our opinion, best versions use real pumpkin, while roasting the pumpkin can also add tremendous depth of character for even better results, though both methods are time-consuming and tend to drive brewmasters insane.
Enjoy your fall, because it won't be long until we'll need some dark, heavy Belgian winter-warmers. That actually doesn't sound bad at all.