Saturday night was a boys night that involved the fine establishments
Brick Store
and
Twains
and the fine beer choices that both offer. As Nathan would agree, if we can open up the eyes of just one friend to what good beer is...the night was well worth it. Let's just say I left happy, and here are the beers that led to this happiness.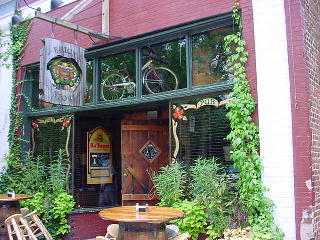 Ranked in order of what I considered the best to the worst. (Disclaimer: If there is a star by a beer, I only had a sip or two of a friends but still feel it's my duty to judge it)
Abbaye Des Rocs Triple Imperiale
(A) just an amazing experience, that I may rate right above the Grand Cru by this brewery. Very sweet, flavorful Belgian Strong Dark ale that I'll be having again (hopefully soon).
Cuvee Angelique
(A-) the unofficial favorite of the group, and I would have agreed until I had the Triple Imperiale. Judging from the amount of reviews online, this is a rarer dubbel that I hope finds it way into Brick Store more often!
Gouden Carolus Classic
(B+) this was the first time I'd had this one on draught, and I came away with the same feeling...YES Please! This Belgian Strong Dark ale is relatively easy to get your hands on in the Atlanta area and I suggest you do so. I look forward to trying more stuff from this brewery soon.
Duck Rabbit Rabid Duck
* (B) Kudos to Dave for "manning up" and ordering this Russian Imperial Stout. It certainly was "rabid" with chocolate and coffee flavors that may be the best I've had in this style (granted I've only had 4 or so before).
Lagunitas Lucky 13
(C+) not quite as bitter as its brother the
"Hop Stoopid
," but this American Srong Ale had me wishing I would have ordered something different. So I did.
Terrapin Oak Aged Rye Squared
* (C) this sucker was even more bitter than the Lagunitas, and I just can't handle bitter-hopped up brews. To each his own.
Twains is a brewpub and I see 3 out of the 4 pitchers that our group ordered are on
beer advocate
, so I'll add the links here. I basically think all of Twain's beers are in the low B range...very solid brews that are more than worthy of a try (especially while playing pool).
Twain's Mysterious Stranger Brown Ale
Twain's Mad Happy Pale Ale
Twain's Heaven for Climate Golden Ale
They also had a wheat beer(Wit and Humor Bavarian Wheat) that may have been the smoothest of the night. I noticed it didn't last nearly as long as the Brown Ale.

*Special note- to the guys that ordered Bud and Miller Lite's at Twains (you know who you are) after having a taste of heaven at the Brick Store...SHAME ON YOU. Those aren't the actions of guys that want in to Beer Heaven.