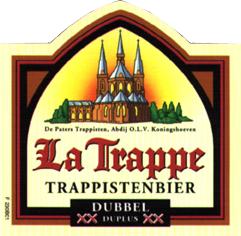 Belgium is home to 6 out of the 7 trappist breweries in the world, but what about that other guy?
The La Trappe Trappist brewery
of The Netherlands is busy making some really good beer despite not being one of the bigger names of the Trappist brands like Chimay, Orval, and Westmalle. In the USA and Canada, La Trappe is marketed as
Koningshoeven Trappist Ale
after the abbey name in case this blog entry prompts you to go out and find one.
According to their website:
"The atmosphere of dedication, silence and contemplation that reigns within the walls of the monastery find their expression in this fine range of beers."
AMEN!
I've had the pleasure of sampling 3 of their beers and here is how I'd rate them:
La Trappe Quadrupel
A (10% abv) The best La Trappe I've had so far, making a strong push for the next release of my top 10. If you like dark fruits, caramel, and sugar (and why wouldn't you), you must give this beer a try. I had this on draught at
Deep Ellum
in Boston this past weekend and the only thing better than the beer was the company.
La Trappe Dubbel
B+ (6.5% abv) Nathan and I sampled a bottle of this at my house a few months ago and it was a very solid dubbel. It's not quite in the league of the Westmalle Dubbel, but it's a very pleasing drink in its own right. Combining a fruity/malty taste gives this beer a drinkability not many can claim.
La Trappe Tripel
B- (8% abv) I had this at the same time as the dubbel, and it was certainly a step down for me. I think Nathan actually would rate this one ahead of the dubbel (to each his own right?). It was certainly well flavored, but seemed to have a dryness (maybe even a bitterness) that bothered the drinking experience. Not my favorite tripel, but I'll certainly have another one some day.